We continue automizing the greatest wind turbine productions
Clemco Denmark is in process of installing yet another 4-axis robot system in Taiwan, at a company producing wind turbines. The robots are set up for zinc / aluminum metallization of tower segments to achieve high corrosion protection for offshore use. The installation of the robot system in Taiwan is one of our larger projects, and in a few days all the robots will be up and running at full speed metallizing wind turbines. Clemco Denmark's technical department is involved in installing the robots and is present throughout the process. When setting up the entire system and programming the robots, it is our own engineers commissioning it, and because of that we have total control throughout the entire project. This big international customer with production in Taiwan has until today had operators to metallize the wind turbine towers, and can now expect to metallize much faster and of a very uniform quality when using the robotic solution.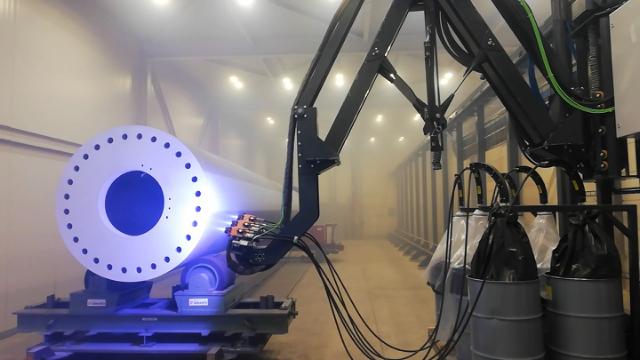 Benefits of using robots for surface treatment

The spray dust released by arc metallizing requires very strict guidelines for safety equipment and protective equipment when persons are involved. When using robotic solutions, no operators are needed, and thereby no personnel are exposed to dust, light and noise pollution. Furthermore, the metallization robot is much quicker, and the amount of zinc wire consumption is therefore reduced with the use of robots.
Another good argument for metallizing with robot is that the process is controlled very precisely and with a very high quality. A correctly programmed robot performs the metallization process faster, more accurate and with an optimized overlap between the coating strokes. The robots deliver the same good result in a repeated quality. The result turns always out perfectly, and those of our customers who have been running robots for metallization for a long period of time have achieved great savings - both in terms of labor, but also on the zinc wire.
Programming the robots
All our robotic systems for metallization are developed by Clemco Denmark's own engineering department and technical designers. The development of our robotic systems is based on many years of surface treatment experience. We program all our robots before they are installed as we know the geometry and surface requirements, and all possible parameters of the items to be cleaned or prepared, on beforehand, to be able to do a proper programming. Clemco Denmark has some very talented people in-house to perform robotic programming, and in terms of development and technical capability, our designers have worked with automation solutions and robotic systems within surface treatment for more than 15 years. Everyone involved in a project is following it closely from the very first meeting till the robot is up and running. That is how we ensure that we always deliver the best solution to our customers.