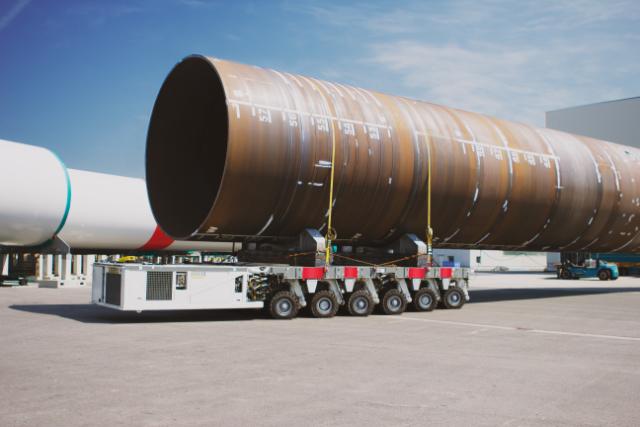 Robotic surface treatment solutions for wind tower production
Robotic solutions for wind energy
Wind energy puts great demands to surface treatment and coatings. Denmark as a country has always been a forerunner of wind energy, and of steel structures used in this industry, such as wind turbine towers.
The planning of a new surface treatment automation project requires vast experience and insights into this industry. At Clemco Denmark we have a long experience within surface treatment and robotic solutions for shot blasting, metallizing, and spray painting. Our solutions are installed at some of the largest wind turbine manufacturers and offshore centers around the world.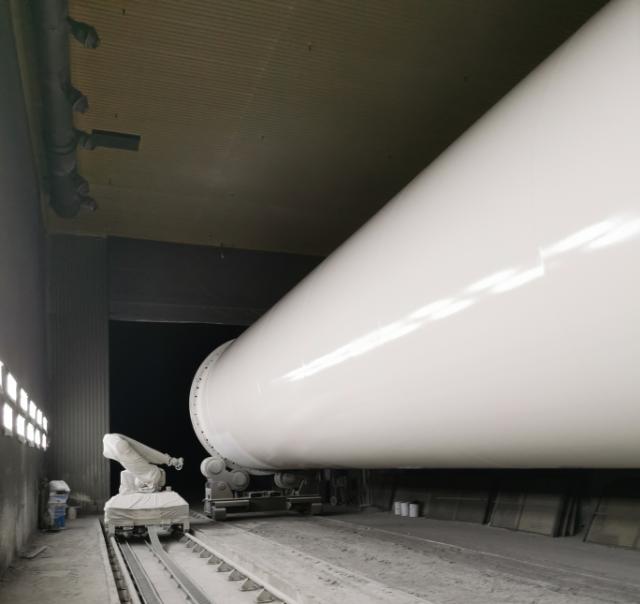 Main advantages of using robots for protective coating
Robotic solutions provide the most cost-effective surface treatment processes for wind tower production facilities. For repetitive surface treatment jobs, robots are often superior compared to human operators in terms of the uniformity. Our surface coating robots can operate continuously 24/7 in order to get the best productivity output. With robotic automation you eliminate heavy and repetitive work, reduce fatigue and minimize the risk of injury.
Optimization of production time and quality
Improvement of the working environment
Consistent surface quality
Turnkey robotic solutions
Surface treatment with shot blasting, metallization and spray painting requires a thorough layout planning in order to achieve a high productivity and efficient transportation of the large steel structures used in wind tower production. Our turn-key solutions include factory layouts, design considerations, installation, commissioning, and training of your personnel.
Robotic shot blasting
Our robotic solutions are built to increase accuracy, provide shorter cycle time, and improve protection. The robot structure can withstand the harshest working environments and blast steel structures of significant sizes.
When coating clean steel structures with a zinc/aluminum coating you get a cathodic protection on the steel surface which prevents future corrosion. It sounds simple, but it requires an in-depth understanding of the shot blasting process itself, the steel abrasive recycling and cleaning, as well as building sturdy, long lasting systems. For us, programming a robot, is the easy part. What requires knowledge is the shot blasting itself.
Robotic metallization
Metallizing is an anti-corrosion treatment where molten metal is sprayed at high speed onto the surface to be protected. This process is very suitable for robotic solutions to avoid human involvement.
Clemco Denmark has developed our own automated solution for metallizing wind turbine tower sections. Wind towers can be fully metallized at a fraction of the time compared to manual metallizing and the time for the subsequent quality control of coating thickness is also significantly reduced.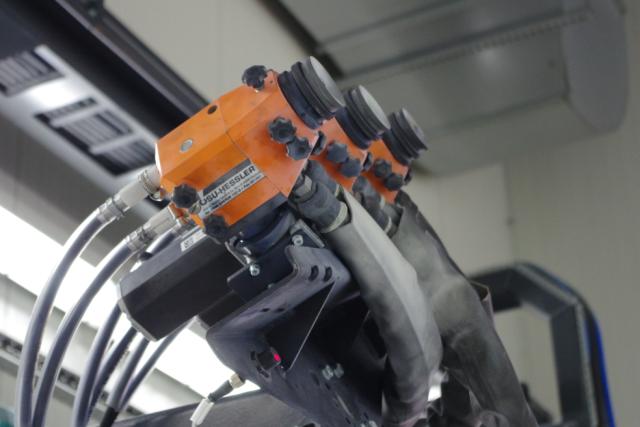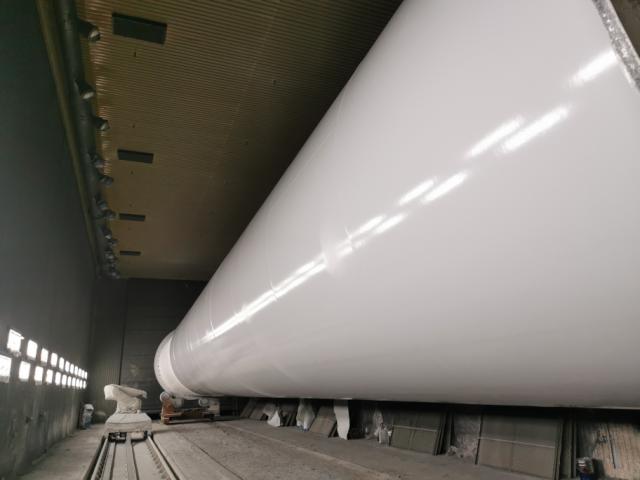 Robotic spray painting
Spray painting with robots ensure a fast, precise, and time-saving process, with easy control over layer thickness. Clemco Denmark has designed a robotic solution for airless painting of wind tower sections, with epoxy and polyurethane systems.
For our robotic painting system, we integrate a mixing unit with integration to a highly advanced robotic controller. This controller monitors the paint process and the robot motion, to optimize the effectiveness and reduce the amount of paint being used.