Equipment for shot blasting
Clemco Denmark offers a wide range of shot blasting components to be used in any number of combinations suitable for many different applications. The components can be built into the robotic system to suit the specific needs for shot blasting.
The shot blasting robot
Our robotic solutions can blast steel structures of significant sizes due to our unique servo driven 9-axis gantry system. The robotic shot blasting process can handle nozzle sizes up to 22 mm and blast with up to 12 bars air pressure. The robots are well protected with a neoprene suit and safeguarded with compressed air to avoid dust and grit particles.
For our robotic shot blasting solutions we are working together with ABB, who produces some of the best robots in the world. The ABB robot is built to withstand the harshest working environment while maintaining a high accuracy and short cycle time.
Features and benefits of the ABB robot
Increased service intervals and reduced service times
Longer up-times – average operational time between failures: 400.000 hours
Available with LeanID for cost effectively increasing dress pack lifetimes
More robust with a rigid structure and a new generation of motors and compact gearboxes
Increased speed and shorter cycle times – in average 5 % faster
Improved accuracy and higher payloads
The robotic program is open for programming in ABB's RobotStudio software.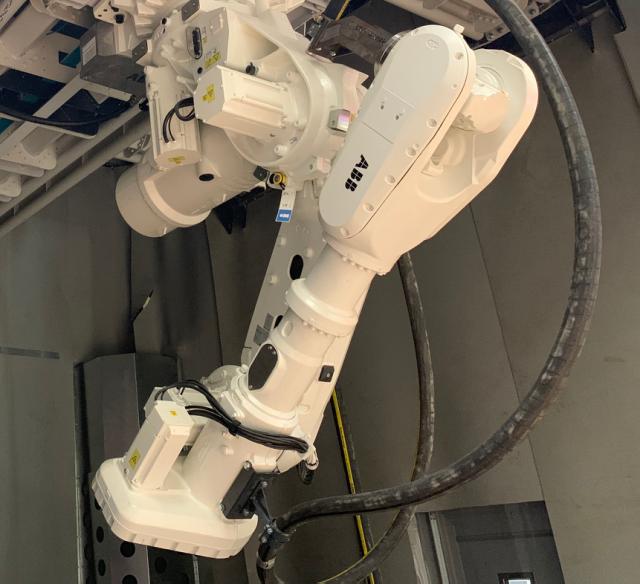 Shot blasting equipment
Clemco Denmark provides ventilation solutions, starting from 2,000 m3/h up to 40,000 m3/h. Our ventilation solutions are available as mobile equipment to be used for outdoor projects as well as fixed installations in processing plants for shot blasting.
Clemco Denmark's products are enriched with decades of experience in the industry and is regularly checked for compliance with all directives and performance factors, to ensure that our equipment meets the requirements for the best possible environmental protection, cost-effectiveness and industrial performance.
Double chamber blasting system
When shot blasting with robots, it is appropriate to carry out a continuous cleaning process without any delay. Therefore, Clemco Denmark has developed a double chamber shot blasting system designed for 100% continuous operation. Constructed with two chambers, the bottom part of which is always under pressure, assuring continuity during the operation process.
A traditional shot blasting container for abrasive blasting has the disadvantage that it must be recharged every 20 minutes of operation, which results in breaks and stops of the shot blasting process. By using a double chamber system, the system is able to operate non-stop, as one chamber is refilling with steel grit while the second chamber is operating.
The ventilation between the two chambers is carried out extremely quickly, as our double chamber system is equipped with four big ventilation valves. The amount of residual abrasives is minimized during air purging which helps to ensure a long lifetime of the valve system.
The timing of the cycles between the blasting containers is controlled by a PLC. The ventilation of the blasting containers is done individually and the PLC control ensures that the ventilation is not active on the same time for all valves.
The air supply is prepared with 2" piping for the main air valve at the upper chamber ensuring the pop-up system in the upper chamber to close faster which means less pressure loss. The valves ensure that the pressure is maintained constantly in the shot blasting system.
In practice, this means that the system is operating continuously with one 19 mm venturi nozzle or two 16 mm venturi nozzles. With this configuration, you are able to blast a very large surface in very short time and with a maximum of uniformity. The advantage of this system is that you avoid untreated areas, as you might know it from the use of other types of double chamber shot blasting systems.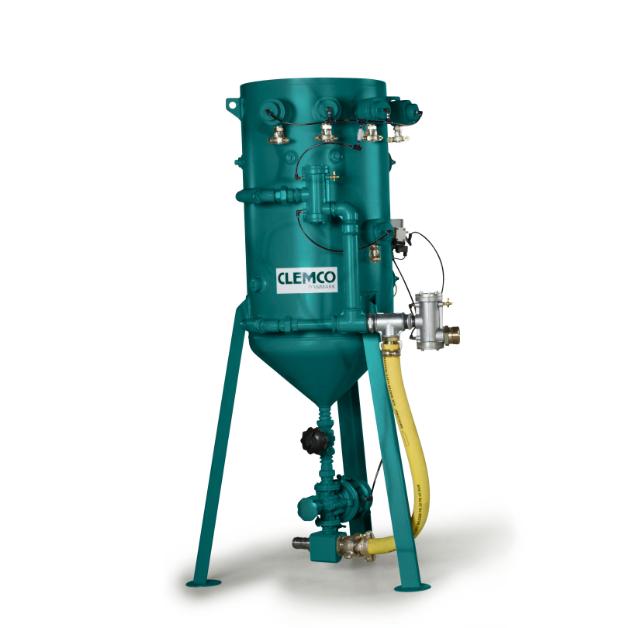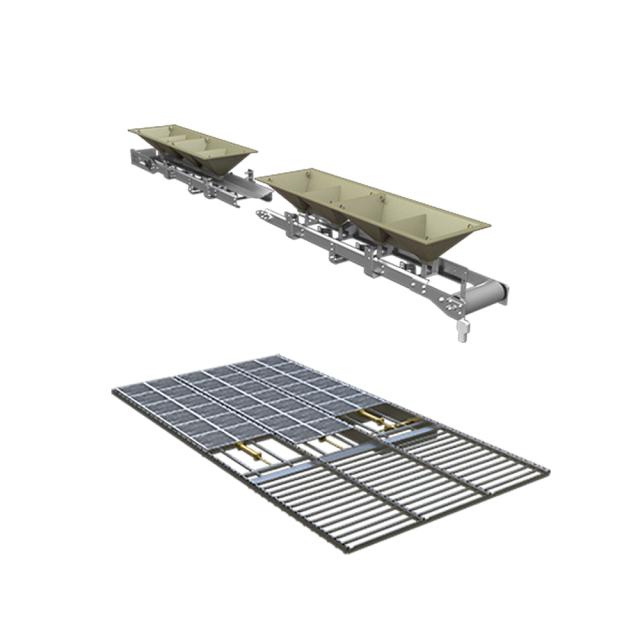 Cleaning systems for abrasives
We provide complete systems for cleaning and throughputs of abrasives. For collecting abrasives we use either a scraper floor, which is easy to maintain, or a belt conveyor, which can remove very large amounts of abrasives. Transportation from the pit to our wind screen and drum term system is done with vacuum suction, or with a bucket elevator. Both systems are well proven and are fit with level meters to be able to control energy levels and savings.
Cleaning of the abrasive is an important process to ensure that the correct roughness is achieved during the entire blasting process. The smallest dust particles will be separated and collected in a filter.
The cleaned abrasive is transported to a silo from where it is automatically fed into the container for reuse. We have solutions for automatic addition of new abrasives so that the roughness of the surface stays the same as the abrasive is wearing out due to many flows in the system.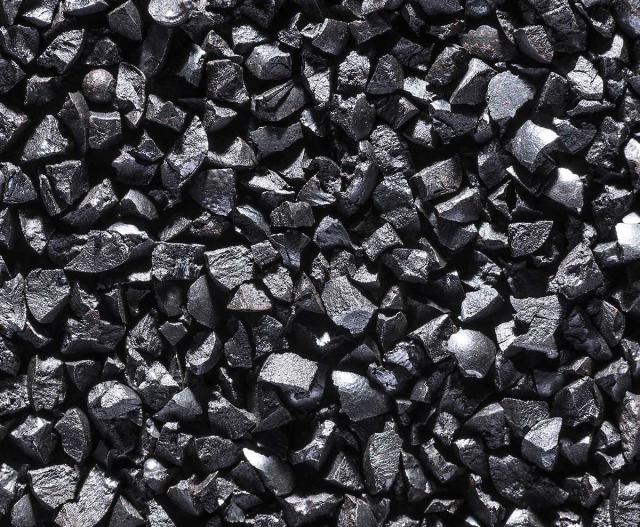 Abrasives for shot blasting
Clemco Denmark is one of the largest suppliers of abrasives for shot blasting in the Nordics. This makes us your one-stop partner for both the robotic system, equipment for shot blasting and abrasives.
We have carefully chosen our suppliers to ensure that our customer's needs for high quality is met. At Clemco Denmark we perform sieve analysis to optimize your consumption of steel shots and to achieve optimal cleaning and preparation of your steel objects.