ROBOTIC METALLIZATION
Our robotic solutions for metallization are based on a combination of 70 years of experience in surface preparation and the latest robotic motion programming. That is how we have managed to create some of the best automated systems for metallizing wind turbine towers and monopiles.
Metallizing with robots
The metallization process is very suitable for robotic solutions, and robots are slowly taking over the metallizing tasks to avoid human involvement. A robotic system can metallize much faster and with a very uniform quality, compared to the manual process.
Zinc-wire consumption is reduced by up to 30% when using our automated system.
The spray pattern can be controlled from a circular spray fan to an elliptical shape in-situ.
We use well-known, high quality metallizing equipment from Osu Hessler.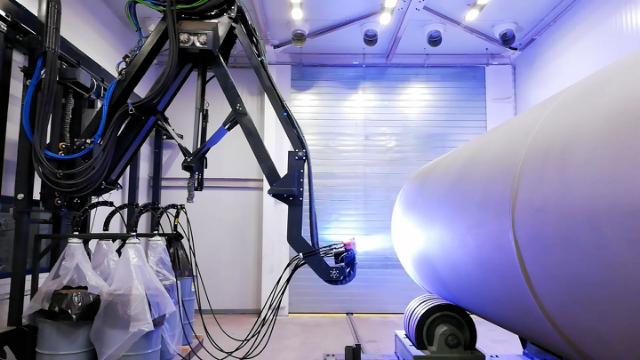 The metallizing process
Metallizing is an anti-corrosion treatment where molten metal is sprayed at high speed onto the surface to be protected. For the best anticorrosion result, a 99.9% pure zinc wire or an alloy of 85% zinc and 15% aluminum is preferable to use. The zinc instantly solidifies upon contact with the surface and creates a coating that protects the steel through the means of insulation and sacrificial action. As a result of this electrochemical process, the less noble metal, in this case zinc, will corrode instead of the steel.

This process is very suitable for an automatic process with robots. The metallization process itself is hazardous because of the creation of a high percentage of dust consisting of zinc which cannot be transferred to the steel surface. This dust is flammable and can create a high risk of explosions under very special circumstances. We see a great tendency towards robots taking over the metallization work to avoid human involvement.
Cart solution for metallizing
Clemco Denmark is a forerunner of equipment for metallizing steel structures for the wind industry. Our in-house developed cart solution with a multi axis manipulator arm for wind tower sections is tailored for metallizing applications. The system enables you to metallize very large steel structures at a fraction of the time compared to manual metallizing.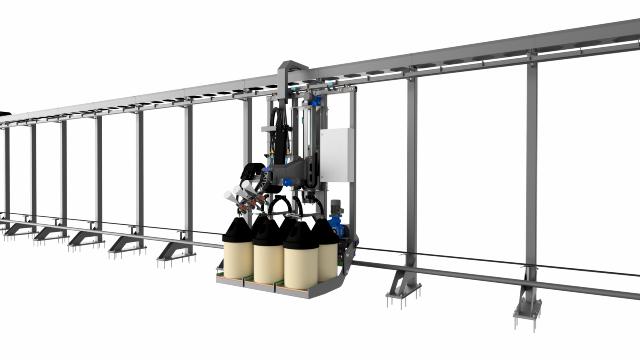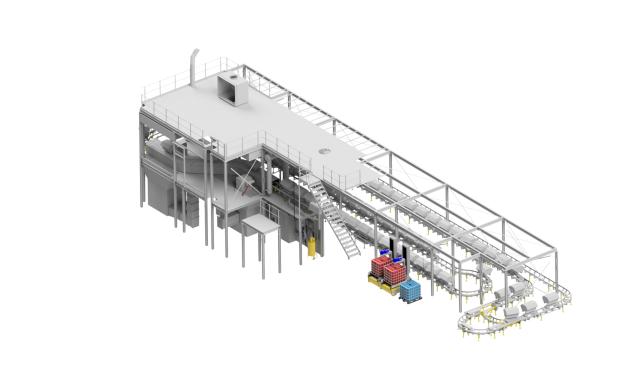 Booths for metallizing
We also offer turnkey booths for metallizing wind tower sections, monopiles and casted items for the wind industry. Our technical department handles project management from start to finish, ensuring you a fully operationally booth designed for your specific needs.
Equipment for metallizing
Based on our long experience and technical understanding of the metallization process, we have selected equipment of the highest quality. We have integrated the metallization equipment, used by our industrial customers for many years, in our robotic solutions.