Complete process plants for the wind industry
Clemco Denmark delivers complete process plants for surface treatment of tower sections for some of the greatest wind turbine productions in the world.
When it comes to wind turbines, engineers all over the world think bigger and bigger, and the turbines become larger and larger, and therefore the requirements concerning durability and lifetime also grow. Putting all factors in the whole production process together, created new and future-proof ideas for Clemco Denmark a few years ago. Clemco Denmark began investing time and decades of experience and competencies in developing, manufacturing and creating complete customized process plants for automated robotic solutions. The solutions are partly based on ABB-robots, but also on self-developed robots based on AC500 PLC, frequency converters and motors from ABB.
The customers come from all over the world and count some of the largest in their respective fields, and the Danish company with now 31 employees has quite high expectations for the exciting and growing market.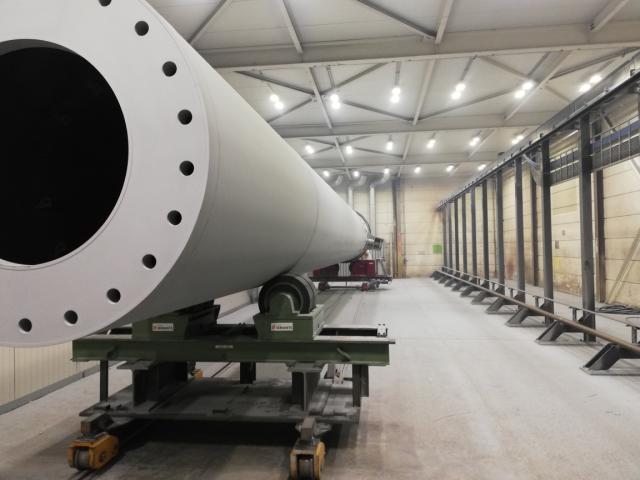 UNIFORM QUALITY AND OTHER ADVANTAGES WHEN USING ROBOTIC SOLUTIONS
The automation system is in this case set up for metallizing. But Clemco Denmark also develop robotic systems for shot blasting and spray painting. All surface treatment solutions must follow specific requirements for what concerns durability, maintenance and safety.
"Metallization is a special technique where, for example, zinc can be sprayed directly onto the item; the zinc wire melts by the impact of 500 amps. The technique is an alternative to hot-dip galvanizing, and creates an anti-corrosion base for the following painting", explains Frederik Nielsen
By automating the process, it is possible to apply approx. 180 sqm per hour, and the zinc layer becomes much more even and uniform in comparison with manual and time-consuming work. The automation also results in savings of materials of about 30 percent compared to the manual work. And in combination with the fact that inspection, quality control and documentation can be done both faster and more accurately, the wind turbine manufacturers will reduce their costs considerably.
CLOSE RELATIONS IN COLLABORATIONS
The planning of a process plant places great demands on experience and project management, and at Clemco Denmark both customers and suppliers are involved to ensure a high level of quality and the best solution for the customer.
"The development of an automated solution is an ongoing process, which for us takes place in close collaboration with, among others, ABB. Here, the keywords are quality, reliability, accuracy and support. This partnership is of course available in a project collaboration with our customers", emphasizes Frederik Nielsen. ABB has been involved from the beginning and with their experience and good support, we have developed some good solutions together. A partnership that will unfold its creativity and competencies when the next project is soon to be completed: A complete system for surface treatment of truck engines with conveyor line, painting booths and drying ovens. During this project, two painting robots will be set up to surface-treat engine blocks for trucks and ensure them a long life with a minimum of maintenance.