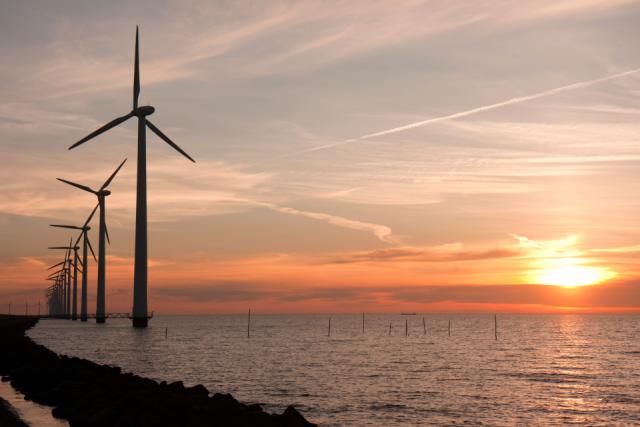 Turnkey robotic solutions for the wind industry
Development of an automated surface treatment solution demands a lot of technical knowledge and experience in the processes involved. Each process has specific requirements on durability, maintenance, and safety.
Project partner on automated surface treatment solutions
Clemco Denmark is your turnkey partner in developing automation systems for your surface preparation and anti-corrosion processes. Based on our 70 years of experience within surface treatment, we have developed innovative robotic solutions for shot blasting, metallizing, and airless painting.
Well-proven robotic applications developed for heavy industries such as wind energy and offshore wind energy.
We are specialized in designing systems that cover large steel structures like wind tower sections, monopiles and generator platforms.
Our robotic solutions can be implemented in new surface treatment booths or existing booths.
Can be delivered in a design configuration for the robot to reach the surface of very large steel structures to perform an efficient and accurate surface treatment.
We are world experts in automation of surface preparation and corrosion protection for the highest corrosion classes including NORSOK for offshore use.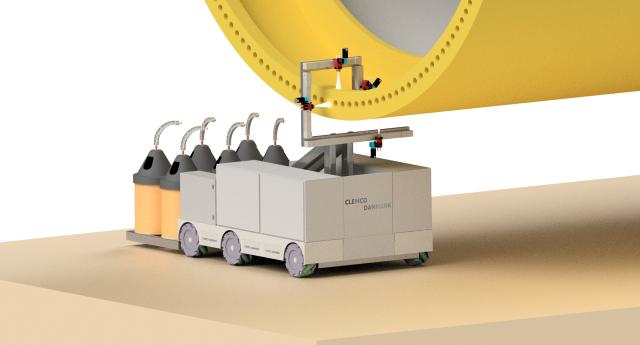 Custom built turnkey solutions
Surface treatment with shot blasting, metallization and spray painting requires a thorough layout planning to achieve a high productivity and efficient transportation of the large steel structures. Clemco Denmark can assist and support in preparing a project plan that includes layout drawings, abrasive blasting booths, wheel blasting machines, metallization booths, painting booths and flash-off zones with heating. Our robotic solutions for wind tower sections are designed to accommodate for limited space available in the surface treatment booths.
The turnkey project: From planning to commissioning
When developing turnkey solutions, Clemco Denmark is your partner throughout the entire process. From factory layouts, designing the robotic solution and testing it, to installation, commissioning and future maintenance. 
Project management
The process of installing a new robotic solution is a large project, that requires close collaboration between you as the customer, and Clemco Denmark as the solution supplier. We provide project management throughout the entire process.
Clemco Denmark is your partner from early in the decision process, and we can support you in assessing your needs and requirements, calculate your potential savings and prepare process times for each process and calculate consumption amounts of grit, metallization wire and paint.
Including in our project management, we perform risk analysis on the use of the coating system for each process, and provide independent analysis of metallization dust to achieve extreme safety during operation.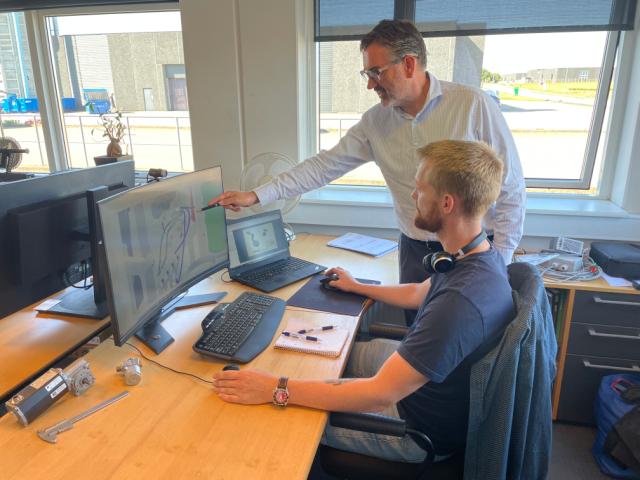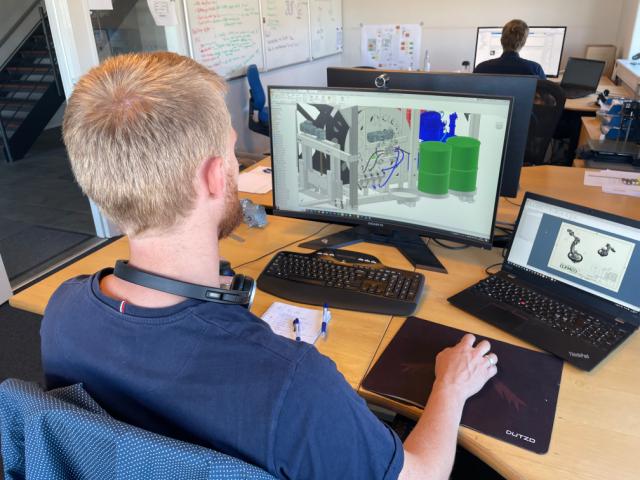 Design and development
Based on the project scale and the solution requirements, we carry out design and development of the automated solution. Our solutions are developed based on our long experience working with surface treatment.
Quality control and testing
In all our projects we perform quality control and "dry" runs when testing our robotic systems, to ensure maximum performance. Extensive testing is carried out at our product development facilities in Denmark, before delivering on site. We always prepare a FAT (Factory Acceptance Test) where drives, motors and communication moduls are tested under our surveillance, to avoid issues before the commissioning phase at the customer's site.
Installation and commissioning
Installation on site is carried out by our supervisors and technicians in close collaboration with our customer's own team. We set up the complete process line, carry out on site testing and the final commissioning.
Service and maintenance
Commissioning is never the end of an automation project for us. Clemco Denmark has a professional and skilled service department, ready to provide assistance with service and maintenance of the robotic system.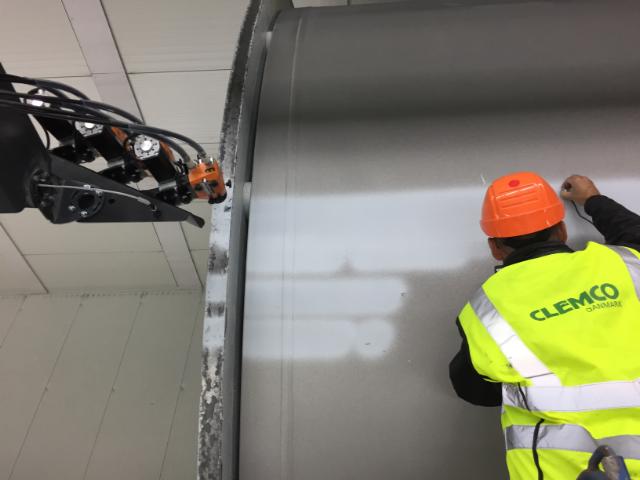 Safety and environment
In all projects, we also provide our know-how within safety and environmental approvals. One of the cornerstones of safety in a process system is correct ventilation to eliminate the risk of explosion of metallization dust and ignition of solvents. We use advanced safety and surveillance solutions and of course back flow valves and explosion membranes preventing back-fire in the filter compartments. We also offer VOC monitoring inside and outside Atex zones for detection of a possible leak in the feed lines of paints and solvents.
Our alarm systems are built-up in 5 separate levels to be able to interrupt processes separately in a way that the entire coating line is not being interrupted during the operation. This is to ensure that you can maintain other parts and areas of the coating treatment system, even though, for example, a spray tip is blocked.
To avoid the robot tool colliding with parts or installations, we perform simulation of the robots' movements in relation to its surroundings. In that way we measure the reach of the robot and can determine the size of the tool and capacity in relation to the surfaces being shot blasted or spray painted. Of course, you can also avoid the most common collision errors and ensure that the robot has enough space to perform movements in the outer positions in the robot program.
Solutions for shot blasting, metallization and spray painting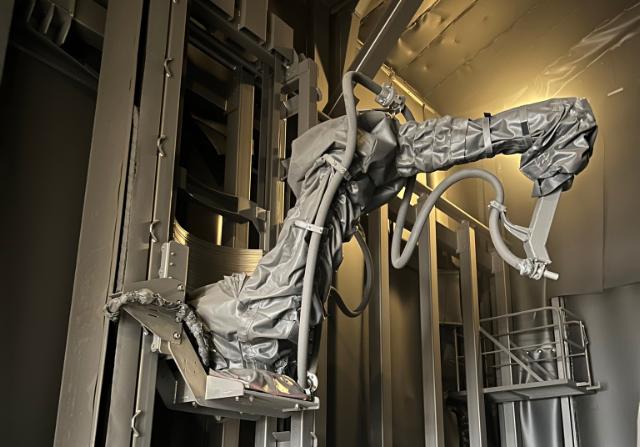 Robotic shot blasting
Efficient shot blasting equipment is necessary to ensure thorough cleansing and the correct coarseness before further treatment. Our shot blasting robots are built to increase accuracy, provide shorter cycle time, and improve protection.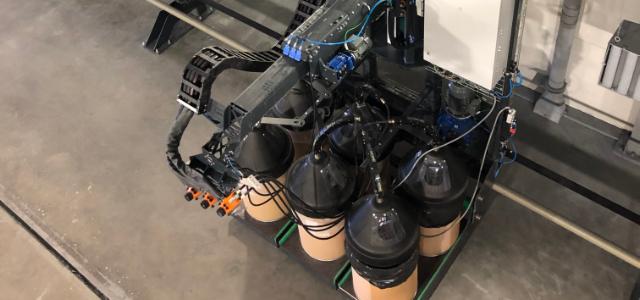 Robotic metallizing
When metallizing with robots the process is controlled very precisely and with a very high quality. A metallizing robot performs the arc spraying process faster, more accurate and with a significantly reduced consumption of zinc wire.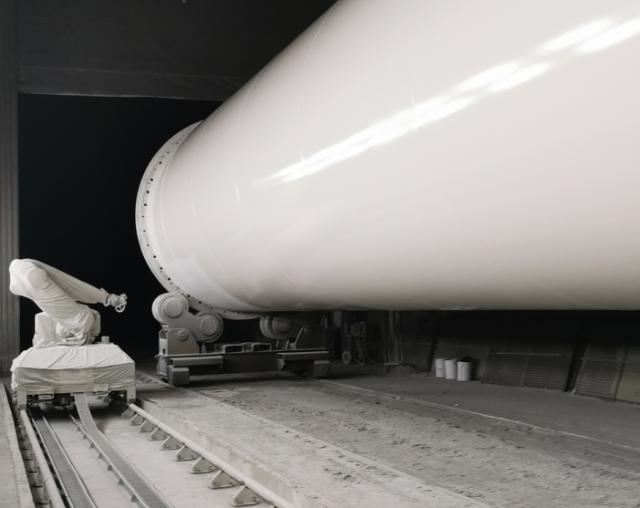 Robotic spray painting
Spray painting with robots ensures easy control of layer thickness and over spray, while reducing the paint material consumption. Furthermore, the automated painting process is fast, precise, and timesaving, compared to a manual process.